Table of Contents
Look to Art for ideas
Are you thinking about bread design ideas? If you are a professional baker or even an amateur baker looking to make gorgeous holiday bread art, you might be wondering where do I look for ideas to top my bread? You are not alone. Many people love beautiful bread, but need a seed of inspiration on finding the best bread design.
My first piece of advice on design ideas is not to overthink it. While everyone wants beauty on their bread, complex, over the top designs might be too hard for the first try. Additionally, simple designs might fall flat.
What comes first? Bread, Art, or Vision?
You might be surprised to learn that before the vision of the art, you need to think about the bread. Whether you are bread scoring, designing Focaccia or looking at a whole new idea for a load, you need to access the bread. It is a flat surface? Are you looking to use elements like other vegetables? Or is it just bread scoring? Will there be a design or an image to consider?
The first thing to consider is the bread. Then you need to consider your skills. From there, the ideas and tools should begin. How the bread looks as a finished product solely depends on how you place the image on the bread.
Be realistic: Bread Design Idea Levels
Your level of skill needs to be considered when you are embarking on the bread art journey. Be Realistic. Your First loaf might not come out as anything special. In fact, it might look like a hot mess. Instead of overthinking it, consider making smaller practice runs with mini loaves, rolls or just flat tops. Design, bake, and see results.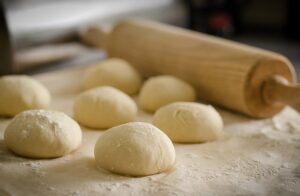 Five Places to Look for Bread Design Ideas
If you are stumped on where to look for bread designs, I'm glad you are here. It's not easy finding bread where you can actually see it to make it. I do believe photos are essential! So is the real deal….a loaf of beautiful bread. Whether you buy it to take it home or admire it through a glass case, it's a great way to get the creative juices flowing
Five Places to Find Bread Design Ideas:
At the Local Bakery
At Local Festivals and Craft Shows
The Weekly Farmers Market
Pinterest – Many Pictures of Amazing Bread Art
Cooking Stores / Small Cafes
Holiday Bread Designs: Make it Simple
When you start looking at Holiday bread art , consider what is simple and build from there. It might be a line structure design. Or using vegetables as focal points for bread images. What you will quickly realize is shapes for the holiday season are very easy to do and are gorgeous. Christmas trees, ornament balls and even pumpkin shapes can make your bread stunning. Add elements for further enhancement and your bread will be stunning.
You have a Bread design, now what?
After figuring out a bread design, you might be asking, now what? The next step is practicing the design. Again and again. This will allow you to tweak the design and make it your own. Adding elements, taking away lines, and finally a finished product you know how to make without a drop of sweat on the brow.
Perfection in Baking: Be Realistic
It's important to point out that you need to be realistic when it comes to your bread art. It's not going to be perfect every time. It will continue to improve and every loaf will become your next best. At some point, you will have a perfect loaf and then, you will find yourself itching to try a new bread design.
In Conclusion
If you are excited about the possibilities of your next loaf, after reviewing bread designs, then you need to get started. This is an edible craft that we all could use more of seeing. Who doesn't smile after looking at a loaf of delightful bread? It's just a natural response!