Table of Contents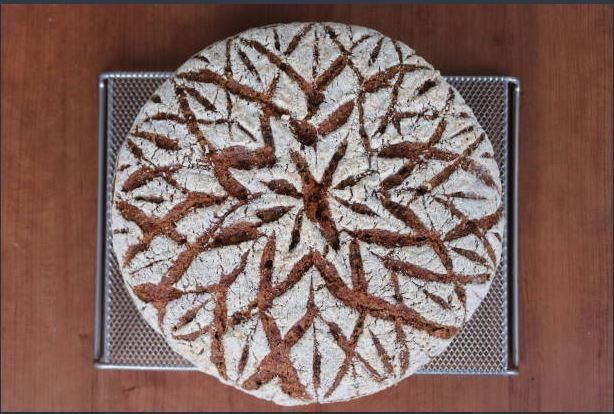 Tools you can use that can be found at home
Holiday bread scoring tools? Can Amateur bakers make beautiful bread? The short answer is YES! And you're going to appreciate the results as it's not only offering amazing results once the bread is baked, you will have fun!
If bread scoring is easy, why doesn't everybody do it? That's the question I ask myself all the time! it's one option of making your baked goods stand out. And it's not that difficult. Perhaps it's because you need to think about the designs you want to achieve when you do bread scoring!
Scoring Bread is Easy With the Right Tools
I will say it again! Scoring bread is easy with the right tools. You might be thinking fancy, baking tools. Yeah, you could get those, but I'd suggest before you spend big money you think about what you already have at home. You might be surprised to know that scoring bread looks great with tools you might not have previously considered.
Scoring bread is definitely an art form. Add the holiday aspect and it's easy to go overboard. Before you do decide to head to the kitchen store, try using tools you have from your home. If you do, your wallet might thank you as you are going to save some cash!
3 Must Needed Tools Might be Steps away From Your Kitchen
There are three home holiday bread scoring tools to use before rushing to the store. I've told people for years my loaves look amazing with these tools (because they do) and when you see a loaf and then I reveal the tools, they really appreciate the effort.
I use a razor, thread (or unwaxed floss) and a spatula. That's it! My spatula is the day-to-day tool I use for lasagna, casseroles and pies. It's a thin metal, everyday spatula. absolutely nothing special.
Prepping the Bread Scoring Dough
Prepping the bread for scoring is very important. If you haven't read my previous article on airing the bread for the perfect loaf, please do so. In a nutshell, you need to make sure to kneed the dough for about 5 minutes to offer up a consistent and airy loaf after allowing it to rise. Then the actual size of the dough needs to be consistent. Roundness needs to be reasonably close to accurate. This is not for the dough, but the design. Otherwise it will look off.
Putting the Design on Paper…First
Once the dough is ready, you have to put on the design. Prior to placing it on the dough, you need to put it on paper. Consider what you would like and how to make it perfect. Check out Pinterest and all the amazing designs already made. Create your own and sketch it out!
Practice Before Beginning
Once your design is set, you need to practice. I always tell my baker pals to have a small piece of dough – the size of a roll set aside. This is for your practice session. Instead of making the top round, flatten it out and flour. Then sketch the design you have on paper to the top of the dough, using your tools. Immediately you will see if there are any challenges to the design or opportunities to further develop the design.
Bread Scoring Tool Essential: Razor Blades
The razor blades are perfect for the actual thicker cuts. They dull very quickly, so make sure you have new, sharp razor blades available. Also, consistency on depth of the cut is important. You don't want to cut too deep, but cutting too light won't offer distinct patterns either.
Bread Scoring Tool For Lines: Thread or Floss
Thread or floss is great if making straight lines across the loaf. This is the perfect way to make consistent cuts that look visually correct and go all the way across the top. If you decide to further those ridges with the razor, it's already present on the loaf and you can use it as guidance. If you decide to use floss (which is a great as well) make sure you avoid waxed floss. In particular, flavored waxed floss. This flavor will be captured in the dough and make it taste funny.
Bread Scoring Tool to Flatten: Spatula
My regular, everyday kitchen spatula is a game changer for scoring bread. When I want to identify certain lines of an image, I can simply stick the spatula in the dough at the already make line and push it apart further. It's going to make the crust softly flake to the sides and enhance the visual perspective. Additionally, when I make an error using other tools, I can flatten out the area to redo without having to kneed the bread again. It's a lifesaver!
In Conclusion
Bread Scoring art is a wonderful way to show some love for the bread you make. It's no doubt beautiful holiday bread art. When you have the holiday bread scoring tools at home already, you don't need to worry about buying more things. Instead you can focus on your design and make the best loaf ever. I love making Holiday bread with amazing bread scoring art and give it as gifts. It's inexpensive and it's actually a gift from the heart!